The Clayworks in Hutchinson
Building on a strong tradition of artistic entrepreneurship, the second Clayworks location features an expansive studio where our exceptional artists explore their creative potential alongside a retail gallery in which to display and sell their works. Also, inside are new areas for connecting and learning, enabling creativity and independence to flourish.
Special spaces include:
Songs for the Trees, a hexagon-shaped room featuring a 12-foot, laser-cut steel tree for displaying wind chimes and other art pieces.
Culinary Arts demonstration kitchen for use by artists and community members featuring roll-up access and overhead monitors for easy viewing.
A studio space for 36 artists, two pottery wheels, indoor and outdoor kilns, portable worktables, and an ADA-friendly cleanup station.
An Industrial Arts workshop for on-site assembly and fabrication projects.
CosmoWorks, a space and technology program bringing together Cosmosphere campers and The Clayworks artists to learn together and from each other.
Outdoor garden for artist education, exploration, and enjoyment.
Meeting spaces for collaboration among community members.
Outdoor fenced basketball court for neighborhood and community use.
Midtown Gallery at The Clayworks in Hutchinson
Welcome to the second gallery space dedicated to showing, sharing and selling beautiful works of art. The Midtown Gallery inside The Clayworks in Hutchinson follows the tradition of One Door North in offering a public space in which to showcase art from individuals with disabilities and works from local and regional artists.
Midtown Gallery Artist for March 2024
Scuttlebutts at The Clayworks offers hot and cold drinks, exceptional food and treats throughout the day, plus beautiful seating (including charging stations at each table) and a covered outdoor patio.
T. 620.888.5498 | scuttlebuttscoffee.com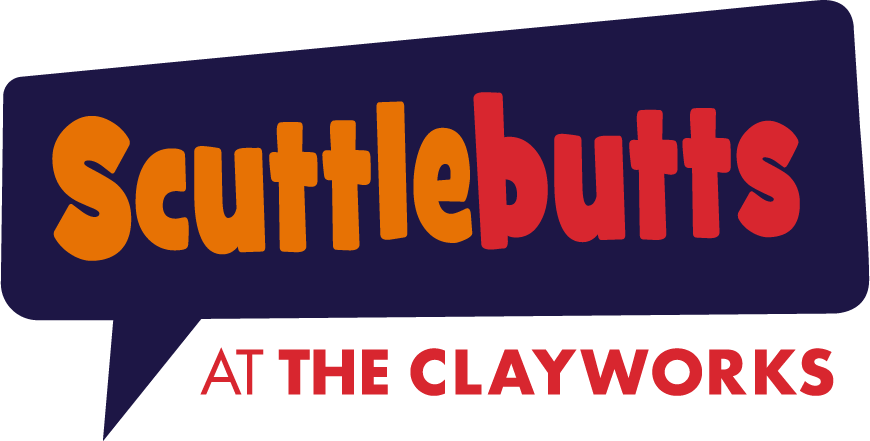 The Clayworks in Hutchinson
1125 N. Main St.
Hutchinson, KS 67501
T. 620.860.9346