The Clayworks Art Educators
Disability Supports' commitment to the commercial success of Clayworks artists is just as strong as our joy in enabling each person to realize their artistic potential. Achieving this two-fold mission begins with the rigorous selection of art educators who come alongside the artists to bring creative dreams to life.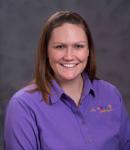 Jenna Parli, Clayworks Retail Manager
Jenna Parli serves as Retail Manager for The Clayworks. She joined Disability Supports in 2012 as a direct support professional which provided the opportunity to get to know many of the artists and their work before transitioning to her current role.
Jenna has a bachelor's degree in Rehabilitation Services from Emporia State University. While earning her degree, she worked with individuals with developmental disabilities, inspiring her to pursue this as a career. As a mom of three, she enjoys time with her children, puzzles, and telling The Clayworks story.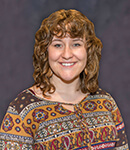 Shai Christensen, Clayworks Studio Program Manager
Shai Christensen is the Program Manager for The Clayworks, where she splits her time between the Hutchinson and McPherson locations.
The most rewarding part of working at Clayworks for Shai is building relationships with the Clayworks artists and empowering them through their artwork.
Shai attended Fort Hays State University and graduated with a bachelor's degree in Fine Arts and a Secondary Art Education degree. In her free time, she enjoys reading, traveling, working on her abstract art, and spending time with her husband, dog, and two cats.
Every Clayworks instructor is selected for these unique and special roles based on their history of artistic accomplishment, creativity, patience and willingness to serve as both a teacher and student of our artists. Even Clayworks instructors with advanced art degrees continue to grow in their field through the collaborative nature of working with our gifted artists. 
The universal language of art removes all barriers of communication between artist and teacher and roles are often reversed as new visions take shape through products, projects, and possibilities. 
Happily, conventional artistic wisdom and the status quo simply don't exist at The Clayworks. The true spirit of art is fostered and nurtured in every way at The Clayworks as the creativity flows from the minds, hearts, and hands of both teachers and students.